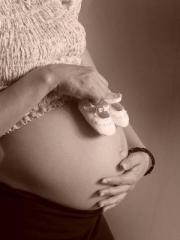 On average, every year (over the last 5 years) we assist 1,000 deliveries (26% by caesarean section and 14% with an episiotomy).
What we do:
– Skin-to-skin contact and early attachment of the newborn baby to the mother's breast.
– WHO breastfeeding and infant nutrition policies (BFHI/BFCI).
– Rooming-in.
– Monitoring the pregnancy until the end, starting from 40 weeks + 1 day: booking with the midwife (tel. +39 045 601 33 58). The service is free after the 40th week of pregnancy, subject to a GP referral. During every check-up, CTG fetal monitoring and a biophysical profile will be performed.
– Delivery support from the 33rd week of pregnancy.
– Natural births in the labour ward, using various positions.
– Water births.
– On-call obstetrician, paediatrician and anaesthesiologist available on-site 24/7.
Childbirth with analgesia subject to a monthly meeting at an outpatient clinic.
For information on the dates, please contact the midwife (tel. +39 045 60 13 358). For any other information, please click here
Childbirth support classes
These meetings are run by midwives from the hospital. You can take part in these classes at the hospital or at the pool. You can register at the Outpatient clinics by your 24th week of pregnancy or by e-mail: ostetriche@sacrocuore.it.
Staff training
Special attention is paid at our hospital to the lifelong training of our doctors, midwives and nurses to guarantee highly specialised, qualified care.
Baby-Friendly Hospital
Training is underway aimed at all operators for the protection, promotion and support of breastfeeding according to WHO directives (BFHI/BFCI).
ISO 9001 Accreditation
The Gynaecology Unit has been accredited according to ISO 9001 standards since 2004.
Educational activities
A collaboration is underway with the University of Verona to train obstetrics staff for the Midwifery Degree and for post-graduate internships.
Fertility Centre
Clic here to visit the Centre's web page.