THE REHABILITATION DEPARTMENT: A COMPLEX REALITY
The rehabilitation reality at the Opera Don Calabria of Verona has always been characterised by the evolution of the rehabilitative offerings established to suit the needs expressed by people with difficulties. From the 1970s, the two structures of the Opera Don Calabria (the Negrar Hospital and the former Professional Centre of Verona) have been aiming their attention to the world of physical and/or cognitive-behavioural disability.
Since then, following the changing needs of patients, and also the requirements of the national health system, our organisation has become gradually more complex.Starting from the 1980s, in line with national documents, we have tried to offer the most complete rehabilitation courses possible, differentiating both treatments on offer and where they are undertaken, taking into account the various needs of the patients and the most appropriate use of the resources available.Accordingly, our Rehabilitation Department houses all the "levels of rehabilitation intensity" required by national and regional law.
This allows us to strengthen the rehabilitation routes for specific disabilities with the addition of specific programmes for professional and social reintegration.All of this explains why our rehabilitation organisation is so complex: so let's take a closer look!
For further information on the Rehabilitation Department, download the brochure in pdf form
RESPONSIBILITY IN THE REHABILITATION DEPARTMENT
Head of Department: Dr Renato Avesani.
Intensive Rehabilitation – UGC/US: Dr Giuseppe Armani.
Department of Physical Medicine and Rehabilitation: Dr Zeno
Cordioli.SMFR: Dr Renato Avesani.
RSA-SUAP: Dr Giorgio Carbognin.
Adult Operative Unit – Multifunctional Support of Verona: Dr Barbara Montagnana.
THE COMPONENTS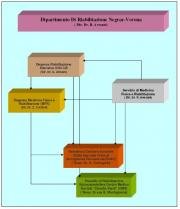 The hospital structure of the Rehabilitation Department is made up of:
the unit of Intensive Rehabilitation Admission UGC-US: located on the second floor of the Don Calabria Hospital, mainly welcomes patients with serious pathologies and those at risk of clinical instability, who require particular medical observation, nursing assistance and multiple and complex rehabilitative treatment. This includes people with damage to the spinal cord or serious head trauma or other serious injuries sustained by the brain (vascular, anoxic, etc.).
the unit of Physical Medicine and Rehabilitation (MFR) – Long-term Rehabilitation Admission: found on the third floor of the Don Calabria Hospital, is a "second level" of rehabilitation, for patients with important rehabilitation needs that are, however, less serious than in the previous structure, who have cerebral vascular injuries (stroke), issues resulting from recent orthopaedic operations (hip replacement, knee replacement, etc.) or other disabling problems that cannot be treated clinically.
thePhysical Medicine and Rehabilitation Service (SMFR): this unit is set up for the performance of all the hospital's rehabilitative services, and provides consultation and services for people staying in the wards of UGC-US, MFR and Rehabilitative Long-Stay Admission, RSA-SUAP, Orthopaedics and other departments, as well as external users. It is also equipped with various gyms in the Sacro Cuore Hospital, Don Calabria and in the Casa Nogarè building.
The extra-hospital site includes:
The Assisted Health Residence (RSA): is a "transitional" recovery unit, accessible for patients who are unable to return home immediately after being discharged from the rehabilitation unit. It welcomes patients with constant assistance needs, who are no longer autonomous, and who require a period of further rehabilitation and treatment before returning home or definitive admission to a nursing home.
The Special Unit of Permanent Welcome (SUAP): dedicated to people in prolonged states of reduced consciousness (so-called "vegetative state" and "state of minimal consciousness"), whose rehabilitative needs are limited, but require considerable nursing.
The "Claudio Santi" Extra-hospital Rehabilitation Social and Medical Centre (CMS): located in the Don Calabria Multidisciplinary Centre in Via S. Marco in Verona. This Operative Unit deals with post-admission treatment, with complex interventions using different methods: continual cycle (which includes admission), and day hospital or in clinic. The centre is accessed only on authorisation by GP and the services are aimed at those with recognised disabilities.
OUR COURSES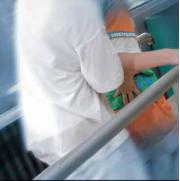 In rehabilitative medicine, what is important – as well as professionalism – is the accompaniment of the patient on a journey that extends from the hospital to his final destination.Over the last two decades, hospital rehabilitation periods have notably shortened and, therefore, there is the need to identify rehabilitation using more steps and in more sectors, creating continuity between what happens in Hospital and what can be done at home and using different methods (i.e., clinic treatments)Our Department has created some structured courses which allow the patient to continue rehabilitation treatment in the Extra-Hospital Rehabilitation structure Opera Don Calabria in Verona (Via San Marco)
Below is a list of the courses for the main disabilities that have been created so far:
Stroke Course
GCA Course
Myelolesion Course
FOR MORE INFORMATION
If you want more further information
PRODUCT STANDARDS
ANNO 2008: Consult the Department's product standard.
ANNO 2009: Consult the Department's product standard.
ANNO 2010: Consult the Department's product standard.
ANNO 2011: Consult the Department's product standard.
ANNO 2012: Consult the Department's product standard.
ANNO 2013: Consult the Department's product standard.
Standard di prodotto Neurologici 2014
Standard di prodotto Ortopedici 2014
Standard di prodotto Stroke 2015
Standard di prodotto Gravi Cerebrolesioni 2015
Standard di prodotto Mielolesi 2015
Standard di prodotto Ortopedici 2015
Standard di prodotto Gravi Cerebrolesioni 2016
Standard di prodotto Mielolesi 2016
Standard di prodotto Ortopedici 2016
Standard di prodotto Stroke 2016
Standard di prodotto 2017
Standard di prodotto 2018
Request module for the structures who wish to inform patients in advance of admission. (to be sent via fax).
An integral plan for the treatment and care of serious brain damage: Agreement drawn up between the Hospital of Negrar, the Hospital Agency and ULSS 20 of Verona. An example of the two conferences on consensus on serious brain damage.
For all patients and their families: a letter from the Head of Department, DrRenato Avesani.
Informazioni sull'esame urodinamico
Informazioni sulle ulcere da pressione
Informazioni sulla riabilitazione intestinale
informazioni sulle infezioni urinarie
La sessualità della donna dopo lesione midollare
Rehabilitation of traumatic brain injury in Italy
Predictive factors for ambulation in stroke patients
Use of early indicators in rehabilitation process
Visual body recognition in a prosopagnosic patient
Reduced-Intensity Modified Constraint-Induced Movement Therapy
The vegetative state: A report of two cases
Community integration after severe traumatic injury
Finger recognition and gesture imitation in Gerstmann's syndrome
Quality of life after traumatic brain injury
Quality of life after traumatic brain injury
Factors Predicting Funcional and Cognitive Recovery
Exploring variables associated with rehabilitation length of stay
Reintegration after severe brain injury
Reintegration after severe brain injury
Reintegration after severe brain injury
Stato vegetativo e stato di minima coscienza
Stato vegetativo e stato di minima coscienza
The vegetative state: A report of two cases