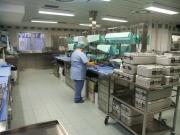 The surgical area of the Sacro Cuore – Don Calabria hospital has 165 beds.
It boasts a multi-specialist operative group with 14 operating theatres suitable for laparoscopic, endoscopic and "open air" surgery.
A series of adjacent rooms completes the operative area ensuring sterility and allowing a rational distribution of the pre- and post-operation phases:
filter zone for patients awaiting operations;
filter zone for staff (changing rooms);
patient preparation and wake-up area;
urgent sterilisation area;
instrument washing area;
surgeon washing and preparation area.
The rooms are ventilated with air filtered through absolute filters that guarantee complete change of the air 20 times an hour; a pressure/depression control pushes the air towards the exterior, prohibiting contact with the unsterile environment.
Heat-welded PVC coverings and flooring ensure complete disinfection of the area from floor to ceiling.
The operative group is linked internally with the First Aid station, Analysis Laboratory, Radiodiagnositics and all hospital wards.
The sterilisation station, linked to the operating theatres, has the capacity for:
4 feedthrough autoclaves for 8 units /1;
2 low temperature sterilisers (hydrogen peroxide);
different routes in the same area (dirty-clean-packaging-sterile);
computer traceability of containers.
Since 2003, the entire operative process is UNI EN ISO 9001:2000 certified