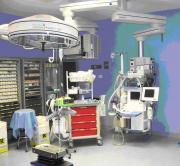 Anaesthesia is part of the Department of Anaesthesia, Resuscitation and Analgesic Therapy
managed by Dr Luigi Giacopuzzi.
It is located on the 3rd floor of the "Sacro Cuore" Hospital, next to the operating theatres.
Please ring the Operating Theatres' bell to announce your arrival.
TELEPHONE NUMBERS
Chief of Medicine: Dr L. Cappi
Tel. +39 0456014556
luca.cappi@sacrocuore.it
Head Anaesthetist: Ms G. Pigato
Tel. +39 0456014550
germana.pigato@sacrocuore.it
Operating Theatre Director: Mr G. Tommasi
Tel. +39 0456013579
giuseppe.tommasi@sacrocuore.it
ORGANISATION AND CHARACTERISTICS
Anaesthesia is one of the certification sub-processes of the Anaesthesia and Resuscitation Ward and represents a large part of the work carried out by the entire ward, employing 17 anaesthetists within the operating group.
Anaesthesia is carried out both electively and urgently 24 hours a day with one anaesthesiologist on duty during the 12 hour day shift and one on call during the 12 hour night shift.
The surgical specialities offered by this hospital are:
General surgery
Pancreatic surgery
Vascular surgery
Thoracic surgery
Plastic surgery
Gynaecological and obstetric surgery
Otorhinolaryngology surgery
Ophthalmological surgery
Orthopaedic surgery
Urological surgery
Dental surgery
Paediatric surgery for ophthalmology and urology
Analgesic therapy
All patients are examined in the days prior to the operation. The anaesthetist will fill in a pre-operation examination form and the patient will be asked to sign a form authorising the anaesthesiologist treatment.
Patients may be admitted via any of the following options:
Day Hospital
Day Surgery
Ordinary admittance
The types of anaesthesia carried out are as follows:
General anaesthesia both through a tube or laryngeal mask, intravenously or with halogen compounds, with continued conscious state.
Local anaesthesia: spinal a., selective spinal a., epidural a. (both in single globus and with probe),
Plexic anaesthesia: deep and superficial cervical block, interscalenous block, axillary block, sciatic block, sympathetic lumbar block, femur block, tibia block both in single globus and in continual infusion with probe
Combined anaesthesia: general anaesthesia combined with all the other local and plexic techniques.
All ventilation equipment for the patient in the Operating Theatres can be used in closed circuit and with a variety of ventilation methods (IPPV, PCV, SIMV). To monitor, a protocol is used which varies depending on the complexity of the operation. Pre- and post-operative monitoring is carried out in the ante-rooms which contain additional monitors and saturation meters.
Post-operative analgesic therapy is guaranteed by infusions both intravenously as well as through epidural, plexic and intra-joint probes with the aid of elastomers lasting 24-48 hours.
For particularly complex operations and for patients in a critical condition, Intensive Care admission is possible.
EXTERNAL ACTIVITIES
The medical and nursing staff in intensive care deal with urgencies and emergencies in the wards, while for all issues concerning elective activity, there is a monthly programme (magnetic resonance and endoscopic service).
In 2001, emergency trolleys were supplied to all wards in the hospital following a project carried out in collaboration with the health management; all the equipment (defibrillators, saturation meters, laryngoscopes) are the responsibility of the intensive care ward whose nursing staff deal with maintenance and function inspections.
Both in the first aid station and in Radiology, Endoscopy and Hemodynamics there are mechanical ventilators and trolleys for Anaesthesia, maintenance of which is the responsibility of the IC ward.