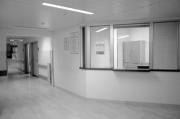 The Surgical Operative Unit of the Sacro Cuore-Don Calabria Classified Hospital is managed by Dr Giacomo Ruffo
The ward, located on the 4th floor of the Sacro Cuore Hospital (entrance C), has 58 beds, 6 of which are Day Hospital.?
It consists of an external area where the Ward rooms are (all equipped with bathroom, television, Wi-Fi connection and climate control) and an interior area set up for the service structures where you can find the medication rooms, doctors' offices and nurses' stations. Single rooms are available, upon payment (click here for rates).
The surgeons in the Unit work daily in two operating theatres – found in the multi-specialist operating block which is linked to the Intensive Care Unit – equipped with the most state of the art equipment for traditional and laparoscopic surgery. The latter is the technique that is most frequently used for abdominal conditions, aimed at optimising the quality of the surgical manoeuvre, and minimising the impact on the patient (to find out more: www.chirurgialaparoscopica.eu)
The annual activity of the General Surgery Department consists of approximately 2,500 admissions with 2,300 operations, 600 of which are emergencies or urgent and 500 as Day Hospital operations.
The surgery service also provides daily outpatient services (approximately 4,500 per year) aimed at guaranteeing specialist examinations for patients.
To book a surgical examination
Surgical examinations arranged via the National Health Service (under authorisation) and surgical examinations arranged privately, but within the National Health Service, can be booked in the Outpatients' Clinic..
To book a hospital admission
Admission is booked only following surgical examination carried out by one of the Doctors of the Surgery Department at our hospital.
To book an admission, you need to contact the department secretary at the S. Cuore Hospital, on the 4th floor (entrance B or C) from Monday to Friday from 12pm to 2pm. You will need the prescription issued by the specialist during your examination and your national insurance number.
Pre-admission and Informed Consensus
To optimise recovery times, in most cases, the examinations aimed at diagnosing surgical illnesses and the services necessary in preparation for the operation are carried out prior to admission. All this is based on a plan drawn up by the specialist who will prescribe the examination or series of examinations that are most suitable for each case.
A dedicated team of doctors and nurses work within the ambit of this Service (active from Monday to Friday, from 7am to 2pm).
Once the pre-operative examinations have been completed, while proposing the surgical operation to the patient, he will be informed of the benefits and potential risks involved in the recommended procedure. The "Informed Consensus" form will be provided, necessary in order to undergo an operation, which the patient must read and understand in order to discuss the contents with the doctor who will undertake the pre-admission procedures. By signing this document, the patient thereby expresses his permission to undergo the operation
Calculosis
Colorectale
Hernias and incisional hernias
Liver
Explorative laparoscopy
Pancreas
Parathyroid
Lung
Proctology
Study of breast pathologies
Stomach
Thyroid
Emergencies
During admission: Medical information
All medical information is provided daily, upon appointment between 3pm and 3:30pm, by the head doctor of the ward. Confidentiality and privacy are respected and, therefore, no information is provided via telephone or in person to anyone not authorised by the family or the patient himself.
During admission: Visiting hours
Only one relative may accompany the patient, and only on the day of the operation and the following day (beyond that, only in cases of major operations). Special circumstances are evaluated individually as they arise by the staff and the charge nurse.
All other visitors must respect the following visiting hours:
From Monday to Saturday:
from 4pm to 6pm
from 7:30pm to 8:30pm
Sunday and holidays:
from 10am to 12pm
from 4pm to 6pm
from 7:30 pm to 8:30pm
Discharge
Discharge times may vary depending on the ward's daily needs, but, in any case, are always after midday. A document is issued, which must then be given to your GP, containing the discharge diagnosis, all information regarding the diagnostic examinations and procedures carried out and the therapy to be followed at home. In the event of examinations still awaiting reports (such as the histological examination), instructions will be given as to how to receive the missing reports.
Request for a copy of medical files:
Following discharge, the patient may ask for a copy of his medical file from the medical files office (found in the entrance hall of the "Don Calabria" Hospital). For further information click here.
USEFUL CONTACT NUMBERS
Switchboard: +39 045.601.31.11
Ward Secretary: +39 0456013493 (from Monday to Friday, from 8am to 4pm; Saturday from 8am to 12pm)
Ward Department: +39 045 6013336
Fax: +39 045.601.3338?
E-mail: chirurgia.generale@sacrocuore.it
Calcolosi
Colonrettale
Ernie e laparocele
Fegato
Laparoscopia esplorativa
Pancreas
Paratiroide
Polmone
Proctologia
Senologia
Stomaco
Tiroide
Urgenze
Linfonodo sentinella
Durante il ricovero: Informazioni mediche
Vengono fornite giornalmente su appuntamento dalle ore 15.00 alle ore 15.30 dal medico responsabile di reparto. Viene rispettata la normativa sulla privacy non fornendo informazioni né telefoniche né a persone non autorizzate dalla famiglia o dal paziente stesso
Durante il ricovero: Orari di visita
L'assistenza ai pazienti è permessa solo il giorno dell'intervento e il giorno successivo (oltre solo nei casi di interventi maggiori), da parte di un solo parente. Eventuali situazioni particolari sono valutate di volta in volta dal personale e dal caposala.
Gli altri visitatori dovranno attenersi ai seguenti orari di visita:
– dal lunedi alla domenica dalle ore 16 alle 17:30 e dalle 19:30 alle 20:30.
– domenica e festivi dalle 11 alle 11:45
Dimissioni
L'orario delle dimissioni è variabile in base alle esigenze giornaliere di reparto, ma comunque sempre dopo le ore 12.
Viene rilasciata una documentazione da consegnare al medico di famiglia contenente la diagnosi di dimissione, le informazioni relative alle indagini diagnostiche ed alle procedure eseguite e la terapia da seguire a domicilio. In caso di esami "in attesa di refertazione" (come l'esame istologico) verranno fornite indicazioni sulla modalità di consegna dei referti mancanti.
Richiesta copia cartella clinica:
Dopo la dimissione il paziente potrà richiedere copia della cartella clinica all'ufficio cartelle cliniche (situato nell'atrio dell'Ospedale "Don Calabria"). Per ulteriori informazioni clicca qui.
NUMERI UTILI – CONTATTI
CENTRALINO 045.601.31.11
SEGRETERIA REPARTO 0456013493 (dal lunedì al venerdì, dalle ore 8.00 alle ore 15.00)
FAX 045.601.3338
E-mail: chirurgia.generale@sacrocuore.it