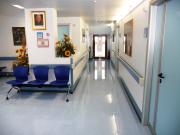 The complex Otorhinolaryngology operative unit, run by Dr Sergio Albanese, is one of the most recent of the Negrar "Sacro Cuore" Hospital, established on the 21st March 2001.
It is a modern structure which, since 2004, has held ISO 9001 certification (certification nr 118367/C BVQI-SINCERT), and is equipped for the diagnosis and medical and surgical treatment of illnesses of the head and neck observing the most recent technologies and scientific advances.
The department is located on the 5th floor of the S. Cuore Hospital, accessed through Entrance B or C.
OUR MISSION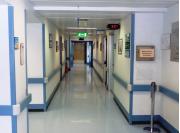 Surgical intervention is an important step in everyone's life and is almost always given a negative connotation that comes from a mix of anxiety and fear.
Our main aim, within the ambit of the highest quality medical-surgical services, is in solving our patients' problems thus minimising the negative impact that traditionally comes from a stay in hospital, especially in the surgery wards.
For this reason, we work daily perfecting treatment methods that are less invasive and in studying new approaches in the overall management of the patient in order to reduce anxiety, fear and physical discomfort.
From this viewpoint, paying special attention to our youngest patients, in October 2008 we started up a pilot project named "Hospital without fear", the first results of which have been presented in various scientific congresses.
OUR DATA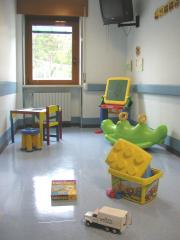 In 2013, our team treated 3,100 outpatients, carried out approximately 2,000 surgical operations and provided 1,300 emergency services.
Based on most recent data, approximately 23% of patients treated in our department come from other regions of Italy and 40% from outside of our Province.
To provide our patients with the highest level of treatment for oncological pathologies, in autumn 2008, we entered an international collaboration with Prof Heinz-Georg Schroeder, Head Physician of the ORL Clinic in Braunschweig and a lecturer at the University of Marburg/Lahn, Germany, our surgical consultant for the most difficult of illnesses.
Furthermore, our team is committed to scientific circulation through the publishing of articles in magazines, and organising conventions and courses for professional specialisation.
Read here the results of the questionnaire in which patients give their evaluation on the department.
TELEPHONE NUMBERS
Hospital switchboard: +39 045.6013111
Examination and check-up booking: +39 045.601.4671 from 12pm-2pm
Charge nurse – Marina Vanzetta: +39 045.6013765
Department secretary – Emma Turri: +39 045.6013465
Fax: +39 045.6013762
THE STRUCTURE
The unit consists of comfortable rooms, which all have climate control, bathroom with shower and television. Two single rooms are available that can be booked for a fee, and there are five double rooms and two triple rooms, usually reserved for children. There is an area that has been reserved for children and their parents as they wait to be examined, and one room set aside for day hospital patients.
We also have a clinic for ENDOSCOPY OF THE AIRWAYS, a CLINIC FOR MICROOTOSCOPY, a DAY SURGERY CLINIC FOR RADIOFREQUENCY OF NASAL CONCHAS, a CLINIC FOR VESTIBULOGY, and two CLINICS FOR AUDIOLOGY AND OTONEUROLOGY.
In the department we also have a ORL Paediatrics Operative Unit run by Dr Alberto Fraccaroli, allowing us to also deal with the most delicate pathologies of our specialities that may arise in childhood.
Download here all the information regarding children in the ORL ward.
TO BOOK ADMISSION
Admission may only be booked following examination with one of the Doctors at our hospital.
To book an admission, please send, via FAX (+39 045/601.3762), the prescription issued by the specialist during the examination and duly completed.
BEFORE ADMISSION
Information regarding admission
Download here the general information regarding admissions.
Information regarding pre-operative fasting
Informed consensus
Below is a list of the most frequent "operation authorisation modules".
The INFORMED CONSENSUS document is vital for any operation. The patient must read and understand it. In it we try to explain in simple terms what will happen in the operating theatre and what potential complications there may be.
The modules are the result of work carried out by the Italian Otorhinolaryngology Society and, as such, are the most up to date that are used in Italy.
Patients may find these documents intimidating, as they list a series of possible complications relating to the patient's operation, some of which are serious.
It must however be remembered that, generally, these are rare or extremely rare events which, nonetheless, we are legally obliged to inform our patients of.
Please download the module and read it carefully in order to be able to discuss the contents with the doctor carrying out the pre-admission procedures.
Head Physician
Dr Sergio Albanese
Adenectomy
Adenotonsillectomy
Tonsil abscess
Lateral cysts of the neck
Median cysts of the neck
General consensus
Cordectomy in microlaryngoscopy with laser
Rear cordectomy in microlaryngoscopy with laser
Dacryocystorhinostomy
Dacryocystorhinostomy
DTT Placing of transtimpanic drainage
Exostosis
FESS Nasalsinus endoscopic surgery
Proper nasal bone fracture
Submandibular gland
BAHA hearing aid implant
Total laryngectomy
Horizontal supraglottic laryngectomy
Microlaryngoscopy
Miringo or tympanoplasty I type
Otosclerosis
Parotidectomy
Laterocervical emptying
OCM Tympanoplasty
Tonsillectomy
Tracheotomy
Turbinoplasty