To control the quality of its services, the "Citadel of Charity" has adopted an advanced management system known as the "Integrated" Quality System.
This system works through an organisational improvement process for all the Operating Units. It has been certified according to the UNI EN ISO 9001 standard by Bureau Veritas (http://certification.bureauveritas.it); which subjects every Operating Unit to regular checks to control quality standards.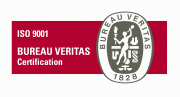 The "quality indicators" are a few of the tools that help to "measure" quality from several points of view.
The effectiveness and efficiency indicators can be found in the "product/service standards" of individual Operating Units and by monitoring these standards we can ensure that the Hospital continues to provide care in line with quality standards, which has a real effect on patients.
Certain user satisfaction indicators are shown below.
Questionnaires